HUMAN RESOURCE MANAGEMENT SYSTEM
Do more in less time with all your HR in one place
Automate much of your employee lifecycle processes – from hiring through to exit, so you can focus on strategic HR.
Some of the biggest businesses in Africa already use SeamlessHR
HUMAN RESOURCE INFORMATION MANAGEMENT
All your HR information in one place.
Keep all your employee information, both old and new, in one place, and access them whenever you want, wherever you are.
Empower your employees to engage HR without fuss, and give them controlled profile permissions to update their information on the system, freeing up your time to do more strategic work.
Find answers when you need them. Five minutes ago or five years ago – sort, filter, export, and do more with historical HR data.
Get a hold of your HR Operations
Paperless time-off tracking
Handle all stages of your leave management process, from when an employee applies for leave to approval, and their eventual return. Know who's in and who's away at a glance, and calculate leave accruals with ease.
Time tracking that fits your needs
Implement your attendance policies for both on-site and remote employees. Keep track of employee hours lateness, absenteeism, overtime, early departures, breaks, leave, and punctuality efficiently.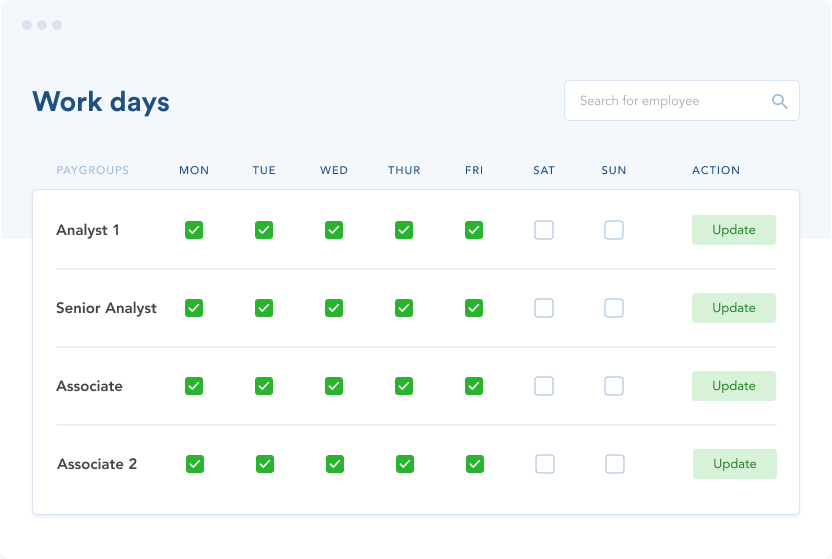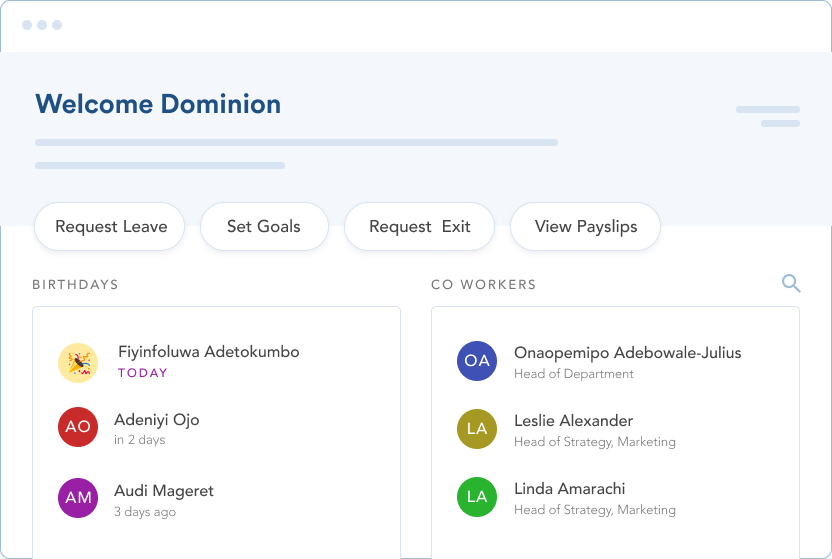 Onboarding & confirmation
You only get one chance to make a good first impression
Ensure your new hires are off to a great start from day one. With a completely paperless and flexible workflow, you can streamline your onboarding process, and customise your onboarding templates with a set of activities that is unique to a specific group of new hires.
Ensure compliance within your organisation
Everything you need to adjust unacceptable workplace behaviour. Administer warnings, queries, and suspensions, track past disciplinary actions, and manage whistleblowing. You can also automatically trigger disciplinary actions from Time & Attendance, and reflect sanctions on employee paycheck.
Make 'goodbyes' a learning experience
Don't miss out on that valuable insight that exiting employees provide. Streamline employee offboarding process from start to finish, and carry line managers, IT, and Finance along.
Integrations that make purchase requests a breeze
Prevent the occurence of lost or delayed requests and improve purchase request processing speed and vendor-buyer relationship with our utility integrations that make these requisition management a snap. Sync employee requisitions with a growing list of powerful integrations such as Calendar, ticketing and hotel booking sites.
All the HR reports you need to stay proactive
From onboarding to career management and time and attendance, our reports library provides you with a variety of detailed HR reports to help you make data-driven decisions.
With our simple and intuitive Android and iOS mobile apps, you can stay productive wherever you are.